Our Amazing Equipment
7/31/2021 (Permalink)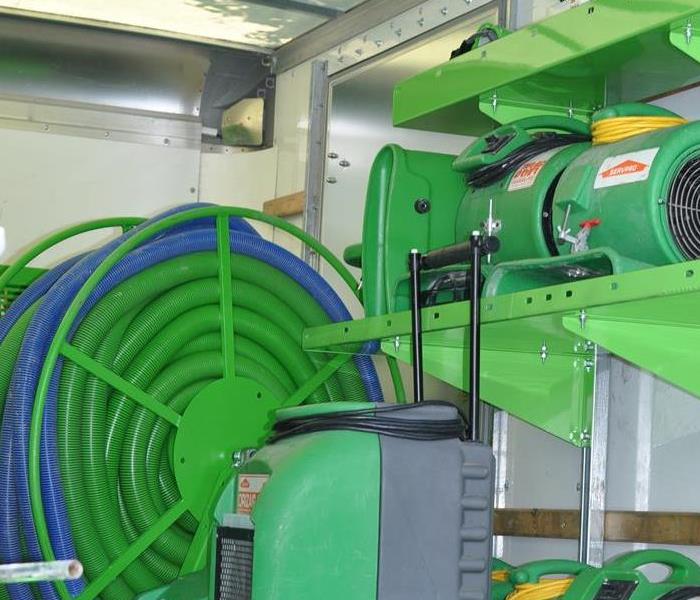 SERVPRO of East Honolulu is proud to present our Drying tools
Untreated water damage whether it is big or small has the potential to snowball into more serious issues like compromised structures or air quality.
In the mitigation process it is important to make sure every detail is accounted for. Such as dry materials, humidity levels, discoloration, mold growth, or foul order.
Treating each damage as threatening to your commercial or residential property is integral to total restoration of the property.
SERVPRO of East Honolulu has high-grade equipment accompanying our proficient technicians to dry any deposits of water moisture. These tools vary in expertise for any need making a significant impact on our overall quality of the job.
Here are some of our best equipment:
Thermal Foggers - This machine also uses a liquid-gas machine to project thick fog from a smoke deodorizer. Although the solvent works differently than the ULV foggers, the fog attaches itself to the soot, odorous particles deodorizing consequently disinfecting. Cleaning soft goods, vehicles, foundational structures and other hard places to clean.
Moisture Meters - Determines moisture content in baseboards, carpets, and walls. With highly accurate readings SERVPRO of East Honolulu can monitor the drying process.
Thermohygrometers - Which measures humidity in relation to temperatures. Upon knowing these certain statistics we then find the most efficient way to dry your property. With contaminated water damage it is crucial to know the temp/humidity levels to disinfect and deodorize thereafter drying.
Moisture Sensors - Detects moisture in carpets, baseboards, and walls.
Ultra-Low-Volume (ULV) Foggers - a deodorizing which creates gaseous cleaning agents, these fine particles penetrate all sites after a dry odor that may odorize from bacteria. Due to the liquid-gas process within the machine, we also use it to inject disinfectants, fungicides, etc… in hard to reach surfaces.
We help make it "Like it never even happened," using these special grade equipment and trained technicians.
We are available 24/7 for emergencies at (808) 395-9545