Getting Through Power Outages Caused by Storms in East Honolulu
8/28/2021 (Permalink)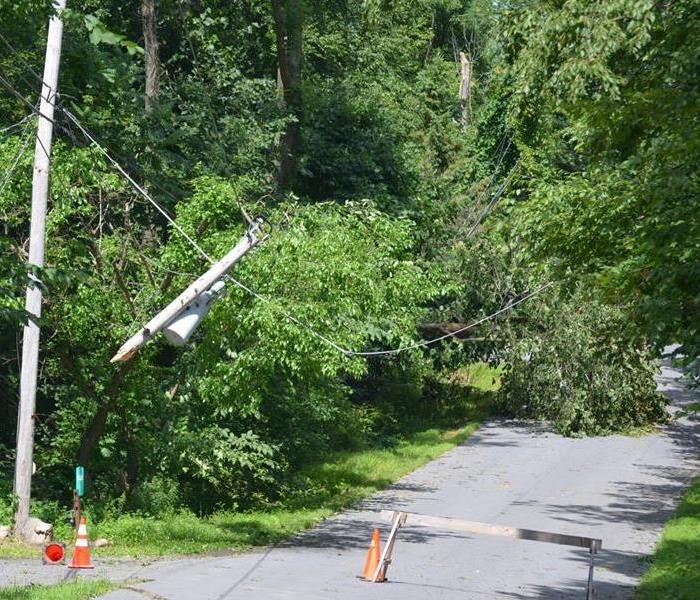 It is hurricane season in the beautiful Hawaiian Isle, but what does that mean for its inhabitants? With the ever increasing rise of hurricanes- which will not cease until November; it has been a tumultuous time for some of us in the East Honolulu area.
The power has been faulty, leaving some of our community members with no electricity for hours upon hours. Here on the island of O'ahu we have a little more protection as hurricanes naturally gravitate to the Big Island of Hawai'i sparing us of some of the more dangerous winds. Most recently, this has not been the case as the last two tropical storms stayed clear of our oldest sister's path: Mauna Kea who resides on the Big Island.
Especially with the ever-changing issue of climate pollution and its effects there may be heightened feelings of anxiety with the cool breezes in the air.
Because it is flash flooding season, where Hawaiian roads become rivers, and the mountains become raucous, understanding your options as a conscious consumer while the electricity is out becomes imperative for a safe space for your workers, ohana, and properties alike.
Electricity is one of the most important common conventions in this modern day, used for virtually every step of our day to day routine. It may be frustrating and nerve racking to experience power outages, as power provides for us with air conditioning, enables us to keep perishable food for a longer period of time, and with the ease of phones halts communication when out.
Here are some tips to follow when power outages do arise:
Tropical storms, depressions, and hurricanes alike do not come unannounced. With the advances in technology we are able to track most activities in the Pacific Ocean; especially those in our near vicinity. It is important to prepare for the event of an emergency when one initially gets the hurricane warnings. One of the ways to preserve communication with the rest of the East Honolulu community is to preserve your battery on one's cell phone whilst trouble occurs. This way when the power is out, and there is no way to charge your devices. There is "juice" in your phone allowing you to contact who you need to, and get consistent updates from the local authorities.
Another preventative method is to write down the names, addresses, and phone numbers of important services/people when the electricity goes out. That would be the nearest hospital, the nearest police station, the nearest hurricane shelter accessible to the public, or family members who may not be as prepared as you.
Another great preventative practice is to consistently be stocked in the event you can't leave your house for 48 hours. The government of Hawai'i recommends all of its citizens to be stocked in case of an event for at least 48 hours, non-perishables like spam, crackers, or granola bars are great food to store whilst in hurricane season.
It is equally important to have "back-up" methods in storing perishable food and medications that also must be refrigerated. Consider having a bag of ice consistently in your possessions in case of emergency. Especially for family members who are diabetic on important medication that must be stored in a cool place.
Whilst the power is out it is a great asset to have is a generator that can keep your house running smoothly. Generators are a great way to keep your family safe and your house functional while natural abnormalities occur. Just as important is to understand the science behind generators, because they emit high gases of carbon monoxide it is important to keep the generator in a well ventilated place. Which is not the garage or within the home. Also, it is important to note the preservation of power when using a generator. While the generator is running only keep the most important appliances plugged in so there is no energy being used for unnecessary things.
A lot of our community in the East Honolulu area have solar panels, the same principles of the generator- besides the byproduct of carbon monoxide, can be applied to using the energy stored in the solar battery cells.
If you don't have a generator or solar panels remember to use the fridge and freezer as minimally as possible, keeping the cool air inside the non-working appliance is imperative. Additionally, gas stoves continue to work while the power is out, but should not be used to heat your home. As it also releases carbon monoxide dangerous to all organic organisms.
And while you are keeping your ohana safe, SERVPRO of East Honolulu is here in the event your house stands wayward after the storm. We kokua for our community, and pride ourselves in the knowledge of restoration as well as remediation especially after natural disasters. Our technicians understand water damage to a property like the back of their hand as it is the biggest issue residents of East Honolulu face. Call us with any questions, comments, or concerns at (808) 796-0443.