SERVPRO of East Honolulu's Deodorization Tactics For Fire Damaged Homes
6/15/2021 (Permalink)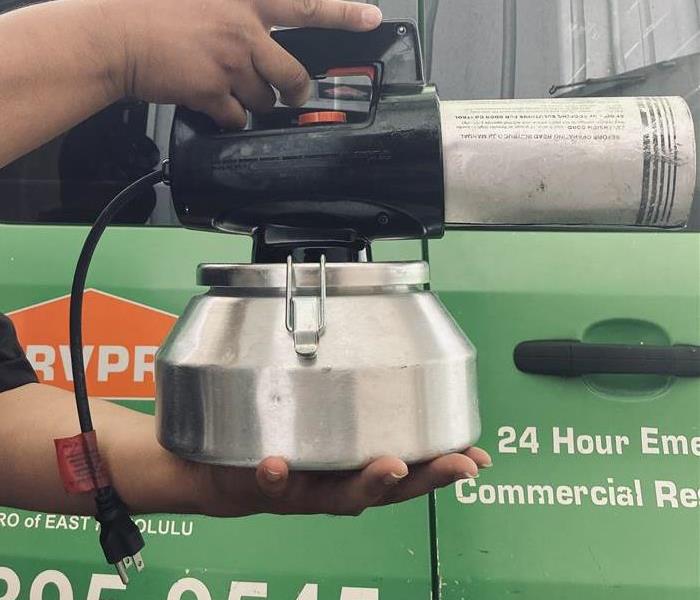 When malodorous smells waft in after the fire damage it is an essential step to get rid of it through our modern deodorization tactics.
On the account of fires residing within homes, they tend to leave massive amounts of soot, residue, odor, invading rooms that might not have been in flames.
Whether your hale is big or small, by virtue of soot's particle properties it will breach every nook and cranny fathomable.
The deodorizing process is no easy task, requiring the most precise instruments and high grade, EPA friendly cleaners/deodorizers.
What is even worse, is the aftermath harming your air quality doubly so, increasing soot, more over inciting mayhem.
Defective and blemished residential property cause damage through over buildup of soot and/or mar, that makes the deodorizing process difficult additionally delaying the restoration progress.
The first step would be to remove all defective materials, and "soft contents"- carpets, curtains, towels, clothes, stuffed animals...etc. SERVPRO of East Honolulu also has certified tools, industrial washers, and professional cleaners to fully rid all remnants of the fire. Cleaning everything from toothpaste boxes to extravagant dinner sets.
We can do it all, simplifying the clearing process of damaged materials out of the way. Making it easier for our technician team to clear the air, quite literally, as smoke clings to everything.
Removing said materials makes the airing out process quicker with no goods to waft through. We have numerous trained procedures to remove fire odors from any and all households.
Using innovative solutions such as a thermal fogger. The fogger contains a deodorizing solution forming it into a gaseous state, this clings to residual smog, smoke, and soot within airways of your home.
This is a great tool for the structuring of the house as it can also get to every nook and cranny via its gas form, which can also be used with couches and other soft materials that might need a different approach to the cleaning process aforementioned.
Another tool we use are ozone machines, this hydroxyl generator is a heavy duty process needing entrapment procedures. When fires only hit several rooms rather than compromising the whole structure- including floors, it is efficient to "zone-off" this part of your property. Once zoned, usually through artfully crafted plastic walls, it will be sealed to insure that no living organism can enter this area. Ozone has interesting properties that also work like the thermal fogger.
Although innately harmful to lungs of any organism, it does dissipate eventually leaving the zone within hours as if the fire did not happen.
We are available 24/7, through sunshine and rain, at

(808) 395-9545
and, on YELP