Why do my walls sweat yellow?
5/28/2021 (Permalink)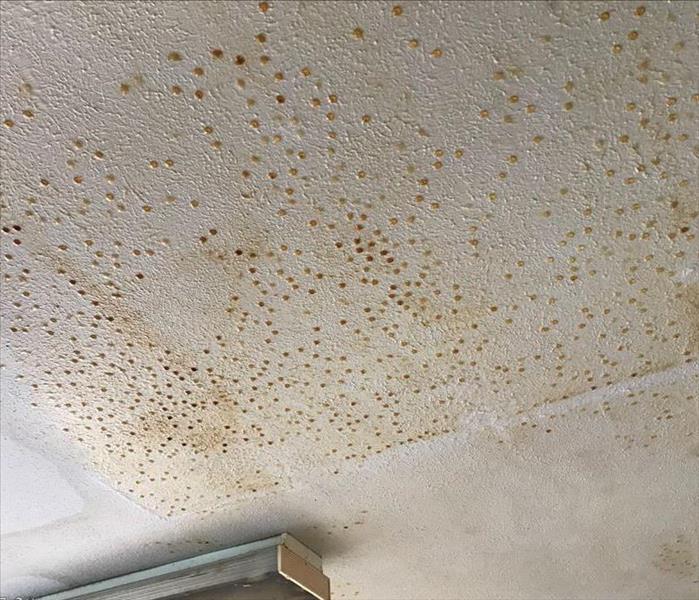 Cigarette smoke and gas heat can leave residues on walls that when wet can run down walls in condensation and look yellowish brown.
Bathroom condensation is so annoying, and it's a common problem in most homes. After a shower or bath, water droplets form on the window, walls and mirror when the warm, damp air is cooled by these cold surfaces. Warm air also holds more moisture, which results in heavier condensation.
How do you stop condensation on walls? To stop condensation forming, the bathroom windows should be opened and extractor fans turned on. Try to keep the bathroom door shut as much as possible so the moisture doesn't escape into other parts of your home. Wet surfaces attract moisture, so wipe them down to get rid of the excess damp.
Correspondingly, what causes yellow spots on bathroom walls?
Smoking tar residue shows up on walls and ceilings. If it's just the ceiling, it's likely from using improper paint. That's from smoking on the John. The tar from the smoke deposits on the paint.
How do you fix sweaty walls?
There are a few remedies for high humidity that you can apply to combat this problem.
Place a dehumidifier in the areas with the most wall condensation.
Install an exhaust fan in your bathroom.
Examine the exhaust fan above your stove or range.
Contact your local professional -

SERVPRO of East Honolulu 808-395-9545