Heavy Rainfall Can Also Cause Water Damage
5/9/2020 (Permalink)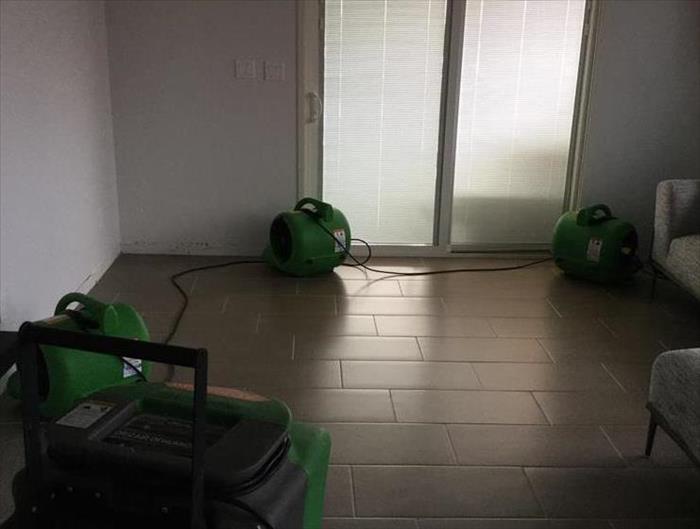 If you've experienced water damage to your home, we are here to help. You can call us 24/7 to have our trained technicians respond quickly
What comes to mind when people think of water damage is typically dramatic occurrences of floods or plumbing problems, but everyday events such as heavy, consistent rainfall can also cause issues.
Heavy rains can quickly exploit any vulnerabilities in a home's weatherproofing and lead to water damage. Here is where we often see damage when we respond to water calls:
Problems That Can Be Caused by Heavy Rainfall

Backup of clogged gutters. Debris can build up in gutters quickly, which is why they are recommended to be cleaned at least twice a year. If they are not, the water can quickly begin to build up in the gutters during heavy rainfall and can seep into the roofline and cause damages.

Leaks around windows and doors. Microscopic cracks around doors and windows can easily let heavy rains in to start causing damage. Adding weatherstripping measures is an easy, effective way to prevent this from occurring around your home's external openings.

Poor drainage around the foundation. If heavy rain leads to water building up around your foundation, it is wise to install landscaping or other drainage systems that can help to move this water away. Standing water can seep into the home's foundation and cause serious damages otherwise.

Leaks in and around the roof. Roof leaks can be sneaky, so it is best to look for signs of them and treat them before they cause issues. Missing shingles or other vulnerabilities can give heavy rains the in they need to cause damages, so doing repairs early is recommended.

Malfunctioning of a sump pump system. A sump pump system is a fantastic tool for preventing water damage to basements and crawl spaces, but they can develop issues that allow damages. Regular sump pump maintenance is the best preventive treatment for this, so it is what we advise.

Leaks around chimneys and skylights. As homes age, their seals can begin to fail, and the seals around chimneys and skylights are no exception. Have your roof regularly checked for vulnerabilities with these seals to prevent heavy rains from seeping in around these features.

If you've experienced water damage to your home, we are here to help. You can call us 24⁄7 to have our trained technicians respond quickly and begin your restoration.